Equipment Specialist (W_EQUIP)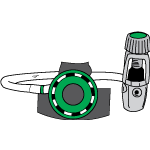 The WOSD "Equipment Specialist" specialty course is developed to provide divers with extensive knowledge regarding the functioning of both mechanical and electronic dive equipment.
This knowledge enables the diver to judge whether and why, items of equipment are (still) safe to use.
In addition, the trainee will also learn how to make minor repairs to the equipment.